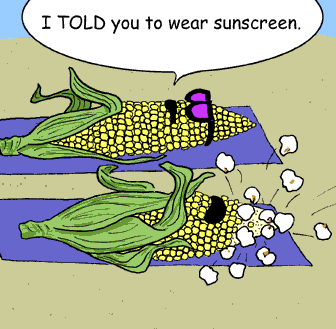 Luckily the fresh corn didn't do this....
Why today is Sunday and it will be a fun-day. Seeing that it's now June, summer has made her presence known and she is here with a vengeance. This weekend, DC has seen temperatures that may give the illusion mother nature is having one hell of a hot flash. Seriously, I think mother nature is menopausal and is taking it out on the DC area. Despite the warm heat, I could not be deterred from wandering the stalls of Eastern Market. With sweat on my back, a cloth bag on my shoulder and no skip in my step (it's really to warm to skip), I aimlessly wandered through the fresh farmers market. As always, it's a sensory overload with fresh vegetables are fruits, juices running down the pudgy cheeks of children nibbling food, dogs panting and the usual host of colorful characters. During my adventures I even managed to find fiddle head ferns which have been rare this season, literally impossible to find. While I wish I could have stocked up on a large supply, at $30/lb it was not in my budget. However, I did score a small amount for tonight's dinner and I am excited to get my fern on.
Once I got home I decided to make some delightful simple snacks for the week (or tomorrow depending on how long they last). Kale chips and popcorn. Two things that you can easily find in the grocery store. But why buy when they are more fun to make? Everyone loves to customize things, why not customize your snacks!? Both kale chips and popcorn are extremely versatile and are blank slates. They can take on any flavor you want. One of my favorite spice mixtures to use on the kale chips is Trader Joe's South African Smoked Spice rub/thingy (thingy is an official term). As for my popcorn, I love to have it the way we would eat it in India, spicy, zingy and buttery. I've made some simple cool recipes for kale chips and popcorn that will surely make the 3 o'clock sugar crash at work much more delightful.
Spicy Kale Chips
Ingredients
1 10 oz. bags of cut kale (it bakes down by a lot so keep that in mind when buying)
3 tbs. olive oil
1 tbs. apple cider vinegar
1/2 tbs. salt
1/2 tbs. red pepper flakes (or your herb/flavoring of choice)
Directions
1. Pull off any leaves from the thick stem and leave in large pieces (they don't bake well and are too fibrous to chew) and place all of the leaves in a large bowl.
2. Pre-heat your oven to 350F
3. In a small cup combine the olive oil, vinegar, salt and red pepper flakes. Mix thoroughly.
4. Coat the kale chips with the liquid and mix it so all the leaves are coated in the liquid mixture.
5. Put a single layer of the leaves on a baking sheet and bake for 10 minutes. Turn them over after 5 minutes. Basically you bake them until they are crispy
Indian Style Popcorn
Ingredients
2/3 cup popcorn kernels
1/2 tbs. salt
1/2 tbs. red chili powder
2 tbs. vegetable oil
1 tsp. hing powder
1 tbs. ghee/melted butter
Directions
1. In a large pot, heat oil. Once the oil is hot add the hing powder.
2. Next add 2-3 kernels and wait for them to pop. Once they have popped, add the remaining kernels and cover.
3. Shake periodically as to avoid burning. Take the pot off the stove once the popping sounds have stopped.
4. In a small bowl, mix together the salt and red chili powder.
5. Transfer the popcorn to a large bowl and drizzle on half of the melted ghee. Then sprinkle on the chili salt mixture. Cover the bowl and shake to mix. Add the remainder of the ghee and chili salt mixture and repeat.
*Notes*
*Both the popcorn and kale chips can be seasoned how you wish, so don't be afraid to get creative!!!
Ease: This will probable take you about an hour to make (for both snacks)
Yummy: Very much so, but be careful with the red chili flakes, they can be potent
Ayurvedic Friendly: Actually I'm fairly sure they are...interesting.